While I absolutely adore amigurumi, I love all things crafty. Back in May I had the pleasure of hosting my sister's bridal shower and I decided to get crafty with it.  For as long as I can remember my sister has loved Lewis Carroll's Alice in Wonderland and as soon as we started talking about a shower she asked if it could be Alice themed.  I thought long and hard about how I was going to make the event whimsical without being childish. After lots of internet browsing for inspiration I was able to put together a an event everyone had a great time at. I thought I'd share how it all went and hopefully inspire you for parties of your own.
What's an Alice themed shower without a tea party? It seemed like the natural choice so we decided on hosting it at a popular local tea house. I knew they had a great outdoor space with beautiful water features as well. Once the location was secured I took to invitations.
There were tons of choices to choose from.  Here are some of my favorites: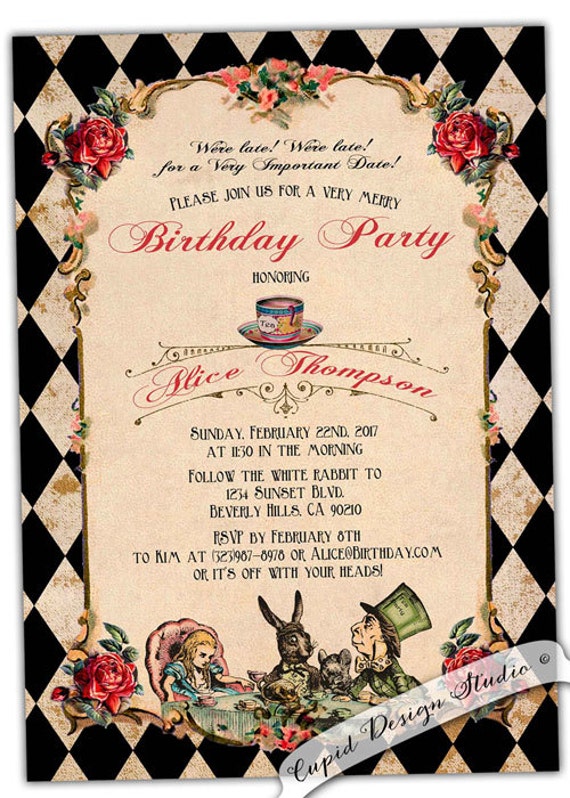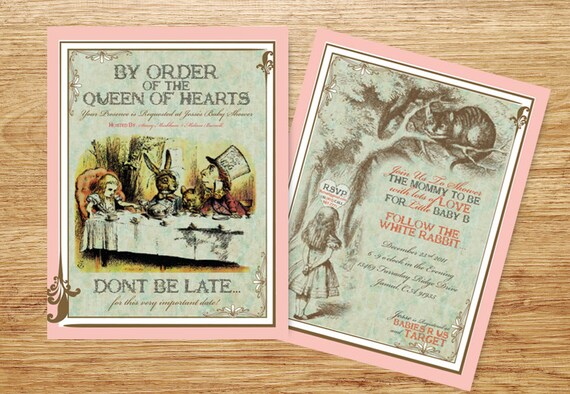 In the end I decided to go digital and went with a fun, bold and colorful design from paperless post.
The bride and I decided not to go the costume route but instead asked guests to wear Alice inspired attire.   Forseeing that some guests may not have time to get inspired outfits I decided to have a backup plan, create head pieces for photo ops. I ended up with 3 different ones to choose from.
The first was bunny ears inspired by the white rabbit and the March hare. I decide to try and create something inspired by a Japanese trend of usamimi headbands.  They are appropriate for everyday wear since they are subtle but still very reminiscent of bunny ears.  Traditionally they are made of fun fabric and I found two awesome patterns, one on the minted strawberry blog and also a different take on the twirling betty blog
Not having a sewing machine I decided why not put my crochet talents to good use the do the same with yarn? I decided to try and create the look with yarn ears. I was able to buy a few plastic headbands at my local dollar shop and transformed them using a variety of techniques covering them with fabric, felt and spray paint. They turned out great and the guests really enjoyed them. I'll be doing another post down the line with the pattern and will link to it soon.
The second was a play on the flowers scene from the book. I used the same plastic headbands and sprayed them with matte gold paint. Being on a budget I was able to grab some faux flowers from the dollar store as well. I trimmed them to size and glued each blossom onto the headband.
The last was a top crocheted top hat. I'll be working on patterning out this project for a future post as well.
For the table centerpiece, I recreated the flowers scene with a a little Alice figurine, some silk flowers and a large candy jar. For the rest of the table I was able to find hardcover copies of Alice in Wonderland and through the looking glass. The tea cups and tea pots provided by restaurant fit right in with the theme.
To round out the decorations I was able to find some metal keys at Michael's and some tea ware at my local Goodwill for $2 each. I created a dormouse to go with the sugar bowl.
A beautiful cake and some themed cupcakes tied everything together nicely. This cake was created by Los Angeles baker Eleana Perez of Elemakescakes.
What party would be complete without games and prizes? I created a jumbo version of my white rabbit as a prize for our shower games.
As the guests started showing up I was ecstatic to see all the inspired outfits. We specifically asked that people avoid costumes but encouraged fashion inspired by all the characters. We had our own Mad Hatter, Tweedles dee and dum, and of course our bride found a white apron to go with her chic navy dress.
I hope this has provided some great inspiration for you to throw your own Alice themed celebration. I'll be following up this post with some patterns soon!
All photos courtesy of Raechel Denise Photography.